Mackie 2404VLZ3 24-Channel USB Mixer from zZounds
s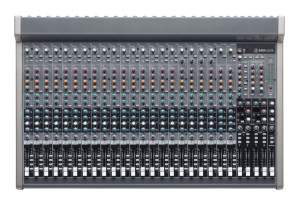 Mackie 2404VLZ3 24-Channel USB Mixer
zZounds Top 10% Popular Item!


List Price: $1429.99
zZounds Price: $1149.99
Refurbished, Opened Item, Other Specials: $1039.00

The 24-channel Mackie 2404-VLZ3 combines VLZ3 low-noise, high-headroom technology with increased channel count and superior processing that's perfect for real-world live gigs. 20 XDR2(tm) mic channels, each with 3-band, sweepable mid EQ, offer more clean and useable gain than the competition. Create great-sounding, professional mixes using dedicated channel and subgroup compression, dual RMFX+(tm) effects processors and true 4-bus architecture. You can even connect to your laptop to record the show, stream house music or use your favorite plug-in live using the built-in 4x2 USB interface. Define your sound, create your mix and record the whole show with the 2404-VLZ3.
Processing Request.
Have Patience, Don't Keep Clickin'